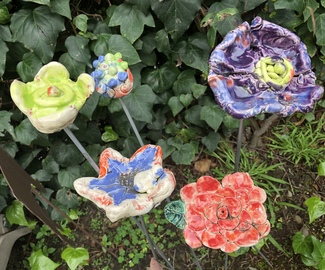 Ceramic Flowers
Ceramic Flowers will be available for purchase at HARVEST FESTIVAL on Sunday, September 22, 11am - 5pm!
The ceramic flowers are a long standing Piedmont tradition. Each year students participate in sculpting flowers and then glazing them. Come purchase these beautiful creations by our talented students at the Piedmont Harvest Festival!
All money from the flower sale goes right into the Piedmont school art & music programs. Perhaps you have seen the flowers in yards around piedmont!