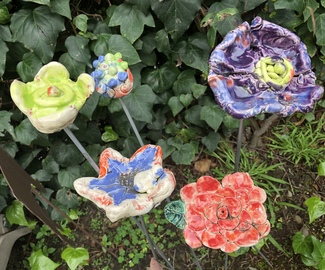 Ceramic Flowers
Come by our BIG ART SHOW and buy some today! (See our gallery hours >).
The ceramic flowers are a long standing Piedmont tradition. Each year students participate in sculpting flowers and then glazing them. They are availble for purchae at the BIG ART SHOW (at Piedmont Center for the Arts . 801 Magnolia Avenue . map).
All money from the flower sale goes right into the Piedmont school art & music programs. Perhaps you have seen the flowers in yards around piedmont!